The Brower Observatory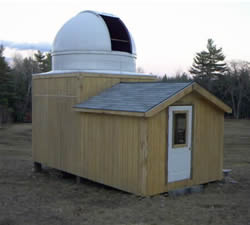 Located in Whitefield, Maine, north of Wiscassett, CMAS has built an observatory. A Meade 16″ f/4.5 Newtonian on a motorized heavy equatorial mount will access dark sky through the slit of our 10' dome. The dome originally was erected by Stanley Brower and housed a Meade 12″ LX200.
The CMAS Observatory project has been an exciting project to be involved in. Construction has been a joint effort on the part of many people and wouldn't have happened at all without the assistance, donations, and encouragement of Stanley Brower (the guy in the white hat). Also many thanks to all of you who volunteered your time and materials to this project. Let the observing begin!
We have quite a few pictures of the Observatory during the construction phase. It was a long time in coming, but has been well worth it for all involved.
Contact Colin Caissie (549-3338) for additional information and Observatory availability.