84 Van Cycle Rd, Lincolnville, ME 04849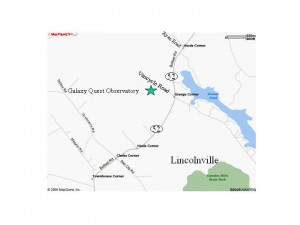 Coming from the south: Set your odometer to zero at the stop light at "Stop and Go" in Camden, going north at .3 miles make a left onto Mountain Street, across from the Library Mountain St is also Rte 52 ; at 4.1 miles you will see the Waldo County sign, continue on with Megunticook Lake on your left and at 5.1 miles you will pass the Youngtown Inn on your right, keep going. at 6.6 miles Rte 52 intersects with Rte 173; make a left and continue on Rte 52; right after the Lincolnville General Store at 7.4 make a right turn ; you are still on 52; continue on and at 11.0 you cross the Ducktrap river; at 11.6 you pass an unused Grange hall on your right and directly after that at 11.7 you make a left onto Van Cycle Rd. Go up the road and at 12.0 miles on your odometer you will pass Kelmscott Farm on your right; at 12.1 the paved road becomes a dirt road and at 12.2 you have reached the driveway to Galaxy Quest on your left.
Coming from the north: Go to Lincolnville Beach, set your odometer to zero and make a right turn onto Rte 173; drive for 1.3 miles and then turn right onto Slab City Road; go straight across the intersection and drive until odometer reads 4.7, make a right onto Belfast Road also known as Rte 52, drive until you cross Ducktrap river at 5.9 miles , pass the old Grange Hall at 6.5 and then make a left directly after onto Van Cycle Road. Continue until you reach a dirt road at 7.0 and then turn left at 7.1 into the Galaxy Quest Observatory driveway.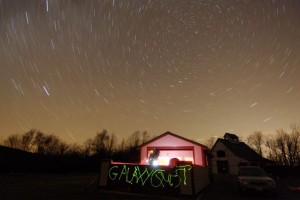 Call Jake Gerritsen if you are lost at 207-542-8899.